Today I am going to introduce a game which is mostly played in India. it can be called as "Indian Ludo" but in Telugu, we call it "Ashta Chamma".  This is an old ancient board game of India.3
Game Structure & Board
The Board must be drawn 5×5 Squares, the middle squares should be crossed like this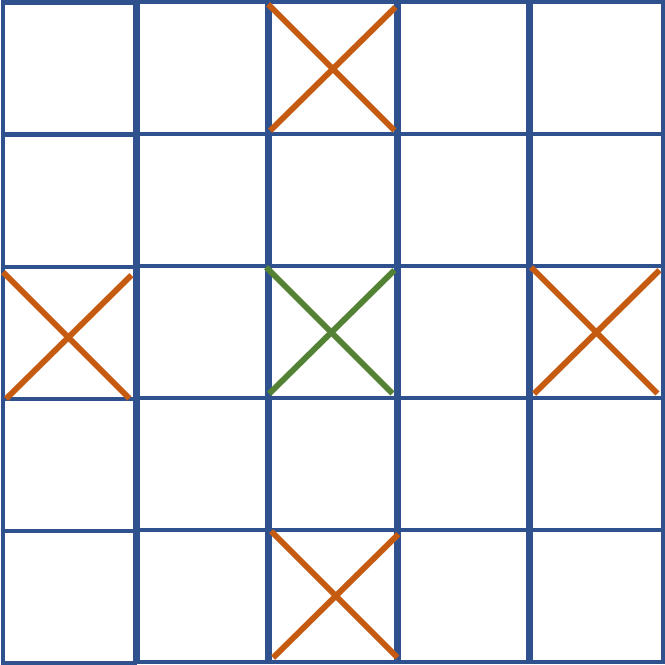 Pawns
Each Player would have 4 Pawns differing with other players' pawns.
Shells / Seeds used as Dice
The Dice would be four Tamarind Seeds with one of the side is white or 4 Sea Shells.
Both these must be 2 different sides for each of the 4 Shells or Seeds.
Shells will have 2 different shapes on each side ( Flat & domed )
Seeds should have 2 different colours in each side ( White & Black/Brown )
Rules of the Game & How to Play this Game
Maximum of 4 Players or  Minimum of 2 Players can play this Game,
Each Player Sits at each side of the Board,
Each Player keeps their Pawns in their Crossed Box, ( in another variation of the game "Outside Game" they keep outside the Board )
There are 5 Crossed Boxes on the Board, each player should start their game from the Crossed boxes which are at the edges, Middle Crossed Box will be the HOME or Goal for Pawns to reach.
One Must Roll all the 4 Shells/ Seeds at a time.
when a player rolled the Shells/ Seeds, players have to count the Shells/Seeds as below,
if a Single Shell's/Seed's Flat Side is seen it should be counted as 1
if  2 Shell's/Seed's Flat Side is seen it should be counted as 2
if 3 Shell's/Seed's Flat Side is seen it should be counted as 3
if all 4 Shells/Seeds Flat sides are seen it will be counted as 4 (Chamma)
if all the 4 Shells/Seeds Domed sides are seen it will be counted as 8 ( Ashta)
Player Moves one of their Pawn according to the above counting
When Chamma or Astha occurs player will be given a Bonus Turn to roll the Shells/Seeds.
if 3 consecutive Chammas or Ashtas occur the Turn will be Cancelled and the Player cannot move any of their pawns.
2 Pawns cannot be kept in a single box except in the  Crossed box ( Safe Box)
When a Player's Pawn reaches a box where another player's pawn already exists, then already existed Pawn of the First Player should be Killed ( Removed ) and second player's pawn should be kept in that box.
The pawn which has been killed has to reach its starting point.
When a player Kills another player's Pawn then they will get another Bonus Turn
The path of each player's pawn is as shown below ( for RED PAWNS PLAYER)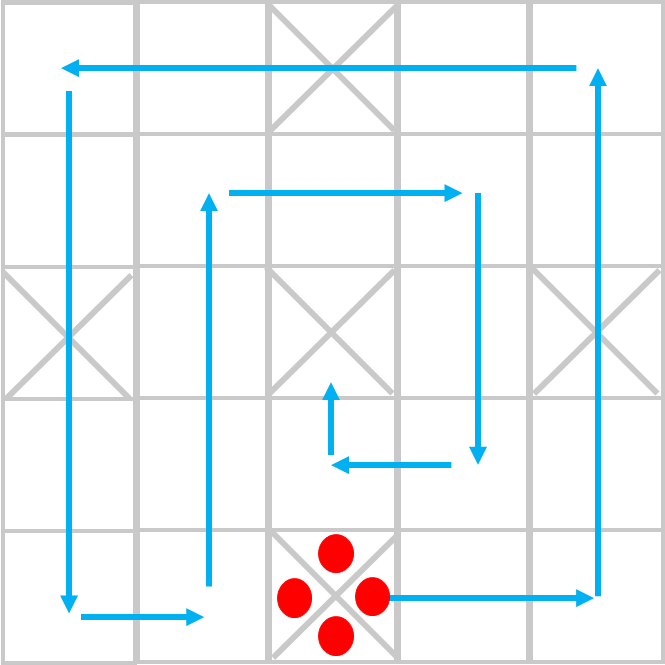 The Player who killed any other player's pawn for at least 1 time, then only he will be entered into the inner chamber (Shown in Green colour) otherwise his pawn should be standing in the Checkpoint shown with a STAR, 
his other pawns should also stand behind the above checkpoint box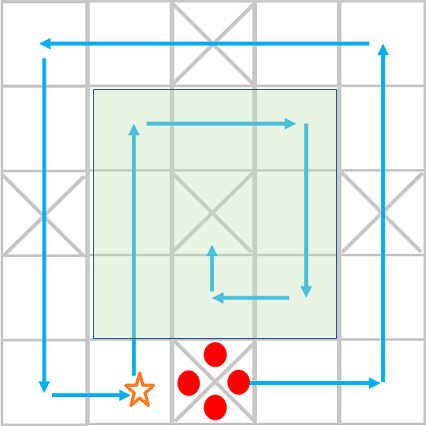 When all the 4 pawns of a Player reaches the Home he will be declared as the winner and he will not have more turns
another 3 players will continue the game.
This game is also known as,
Ashta Chamma – Telugu – Andhra Pradesh/Telangana
Chakaara or Chakka – Kannada – North Karnataka
Pakidakali – Malayalam – Kerala region
Daayam or Thaayam – Tamil – Tamil Nadu
Atthu – Hindi – Madhya Pradesh
Kanna Dudi – Hindi – Jabalpur, Madhya Pradesh
Kavidi Kali – Malayalam – Kerala
Chung – Hindi – Madhya Pradesh
Champool/ Kach kangri – Marathi – Maharashtra
Chomal Ishto – Gujarati
Kaangi chaala – Gujarati
Changa po – Rajasthan
Cheeta – Madhya Pradesh